New remains from Swanscombe discovered by Dr. Jack Cuozzo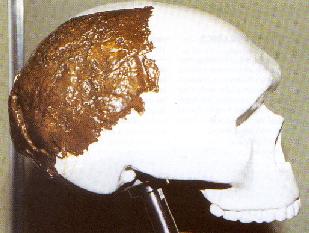 ---
The Swanscombe skull
The original Swanscombe remains consist of an occipital, a left parietal and a right parietal (Day 1993). They were found in the gravels of the River Thames, Swanscombe, Kent.
According to Wolpoff (1980) and Day (1993) the remains are that of a young female.
The cranial capacity as listed by Stringer and Gamble (1993) is 1325 ml.
---
Le Gros Clark (1955) called attention to similarities between the Swanscombe and Steinheim forms, while others emphasize "primitive" Neanderthal features. (Day 1993, pg 23)
New discoveries in Swanscombe
---
Dr. Jack Cuozzo, author of the book "Buried Alive - The Startling Truth about Neanderthal Man" discovered 2 additional pieces of the Swanscombe woman in September 2000.
---
Click Here for Chris Stringers response to the find Swanscombe page 2
Click Here to Read Dr. Cuozzo's response to Dr. Stringer Swanscombe page 3
Click Here for comments from Chris Stringer, and his scans of the bones Swanscombe page 4
To read Click here for furthur evidence that the new Swanscombe material is bone Swanscombe page 5
---
Return to the Main Index
Email
---
Email: drjackcuozzo@mac.com