9.
Neanderthals were unique
---
10. Neanderthals were consistently different from us, at any age. Infants as well as adults have a whole suite of characters which are distinct from modern humans (Schwartz and Tattersall 1996).
Please see my comments on Schwarz and Tattersall's 1996 work on Neanderthal apomorphies on page 243-244. Also see (page 76) that I sent an outline for a proposed publication of my findings (up to 1985) to Dr. Tattersall for his review because of the recommendation by the late Dr. Harry Shapiro of the American Museum in NYC, in 1985, who thought it was worthy. Dr. Ian Tattersall did not disagree with any of my results in his letter back to me dated April 24,1985. This is what he said,

"I found your outline on the Neanderthals most interesting. Unfortunately, the Museum publication series is dedicated to publishing studies by staff scientists or on the Museum's collection, and I do not think that our publication committee would find your work within scope."
He continued about the potential interest of this material and that I should contact a friend of his at the Am. Journ. of Phys. Anthrop. He did not disagree with any of my findings in that letter.
One more fact ought to be made more obvious here. I wrote a paragraph in the research notes on page 285 about an illustration that appeared in Tattersall's new book on page 79, The Last Neanderthal (1995). On that page is a picture of the Engis II child's partial cranium from a side view. Under the skull is a sentence, "The extreme length of the skull is 7.7 inches, and as its extreme breadth is not more than 5,25, its form is decidedly dolichocephalic." This 7.7 inch length is 195.58mm. This photograph and sentence were taken from Charles Lyell's book, Antiquity of Man.
I now refer you to page 91 in Buried Alive where I have a complete side view of the Engis II child with a mm ruler under the mastoid process. The extreme length of the skull is 164 mm. Lyell, Schmerling and Tattersall are all about 31 mm off.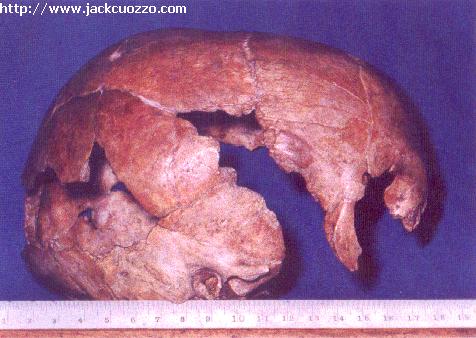 I really think Tattersall trusted Schmerling and Lyell more than I did. Or perhaps he just forgot about my measurement of Engis II.
We must get rid of this prejudice against Christians who want to do scientific work. I have read Tattersall, he has read me. I hope he reads Buried Alive. We need better dialogue; all of us make mistakes.
Let me answer this charge about suites of characters another way. No one has ever done a cephalometric study of Neanderthals before mine; therefore it is logical for Dr. Groves never to have heard of them before. I have found new suites of radiographic characters which change the whole picture of Neanderthal children but I also dispute those characters that have typically been distorted from museum to museum to give the typical idea of a "full-faced Neanderthal child as portrayed in National Geographic in computerized models (Jan/1996) (Nature cover 375:6529, 1995). I am speaking about the infantile characters related to prolonged maturation:
A. Facial retrusion due to hard palate angulation over 14ö to FH.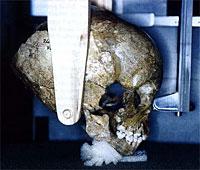 B. A small ramus of the mandible (like Pech de l'Aze) at four SDs below the mean of modern two year olds.
C. Medially-tilted immature condyles that no longer tip medially because of misconstruction, like Gibraltar II.
D. Sharply angulated zygomas like Gibraltar II with adults like Gibraltar I having forward-sloped zygomas.
Figure 37
Arrow points to closed (tympanomastoid fissure) separating two parts of temporal bone around a modern child's ear (4-5 years old).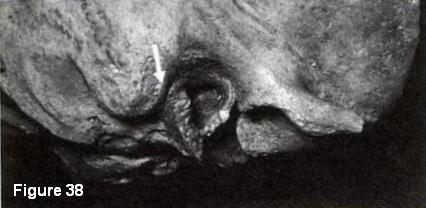 Figure 38
Arrow points to deep open crevice (typanomastoid fissure) in Engis II, more immature than modern child, age for age.
E. Open tympanomastoid fissures of Engis II and fetal tympanic bones (mentioned by Fraipont).
F. Protracted primary taurodont molar tooth eruption.
G. Delayed mandibular symphyseal closure in Pech de l'Aze.
H. Huge difference between height of younger Pech ramus and older Gibraltar I ramus supposedly only a year apart in age, yet requiring five times the rate of modern growth to attain such size.
I. Extensive enamel wrinkling of unerupted permanent first molars which produces more enamel square mm.
J. Taurodont primary molars never to be seen again in the human race (we have devolved primary cynodont molars).
K. Adolescent vertical foreheads with no supraorbital enlargement that progresses to backward-sloping adult foreheads with huge supraorbital ridges. Then we must consider: Who has done a cross-sectional cephalometric study to compare angulations and measurements among a closely related group like the classic Neanderthals? We cannot argue about things they never saw in the adults or children until they see them in the cephalometric radiographs and actual fossils and then reply to me.
My work in this book is out there not for people to argue about on the internet (though this is inevitable) but to change the way paleoanthropologists think about Neanderthals and ultimately mankind in general.
Menarche
---
11. Menarche today and in the past. Did I cavalierly dismiss Aristotle and his evidence? I cited over forty references for menarcheal decline and precocious puberty increases in females. Again, I even cited those articles or book references that differed from my conclusions concerning these "downhill" changes. In the true scientific spirit, this is a necessity. Aristotle may have said that the fourteenth year was the beginning of catamenia (menstrual bleeding), however there may be a problem with this observation because of the "twice seven years old" Greek terminology that he used. The number seven was a "mystical number" in ancient Greece. The word "puberty" is also a problem in antiquity. In all likelihood it did not carry the same meaning as it does today.
Will Durant had both praise and scorn for Aristotle: "He rejects the view of Pythagoras that the sun is the center of our system; he prefers to give that honor to the earth." (The Story of Philosophy, Simon and Schuster, NY, 1953, p. 53). "Indeed, Aristotle makes as many mistakes as possible for a man who is founding the science of biology" (p. 54). "Yet he makes a greater total advance in biology than any Greek before or after him" (p.55).
After careful consideration of Aristotle, I decided to believe what Durant had said about him. I don't think that it was cavalier to do that. I probably should have been clearer about this in the book and am grateful for Dr. Groves pointing this out. Next time something like that comes up, I will explain myself more fully.
Biblical Inerrancy
---
12. Biblical Inerrancy: This is a battle that volumes have been written about and I prefer to believe the facts that have endured for ages and ages. It has often been said, and I believe to be true that Luke's genealogy contains a copyist error and that in the original writing it was identical to the Old Testament writings. Let's face it, Luke was not illiterate. He had the Old Testament writings as did many first century Jews. This was their Bible. Why would he write a contradictory account when he wrote,

"it seemed fitting for me as well, having investigated everything carefully from the beginning, to write it out for you in consecutive order, most excellent Theophilus; so that you might know the exact truth about the things you have been taught." (Luke 1:3-4.)

He claims to communicate exact truth and then contradicts the very Scriptures that Jesus proclaimed as truth.

"Thy word is truth." (John 17:17)

I don't think so.



---
Finally I wish to thank Dr. Groves for his compliments about my competence as a forensic anthropologist and that I could make an important contribution to the scientific literature. I hope not too many people pass over that sentence too quickly. He did qualify that remark by requiring me to "lay aside my paranoid fantasies."
I thought I had done that in the book when I wrote, "Some of the scientists were open-minded and some were not. I am certainly not condemning all paleoanthropologists" (p.12). At the end of the book I wrote,

"Let us strive together to open up the pathways of research so they can carry young minds toward the mind of God, not away from Him" (p.269).

If, as he said, I can make an important contribution to the scientific literature, then this is a big step forward for those willing to do the hard work of original research, regardless of their source of inspiration. The Germans have also made a step in this direction. This is truly a liberal attitude, and a tribute to the sharp foresight of one brilliant anthropologist from Australia. I hope I prove worthy of this confidence. To those who believe in a just and loving personal God, please pray for me.

Dr. Jack Cuozzo

---
Return to the Main Index
Email
---
Email: drjackcuozzo@mac.com