Figure 12.
True lateral view of the Engis child cranium (skull). The ruler is resting under the skull so as to provide an accurate measurement in millimetres. Perpendicular lines from the ruler to the anterior (front) and posterior (back) of the skull show the maximum length to be from the 15 mm mark to the 179 mm mark. Total length equals 164 mm.
[pg 174:]
In order to arrive at his conclusions he also had to ignore some immature features which should have showed him signs of a slowly growing skull. He made special mention of the extremely infantile character of the tempo­ral bone, especially the tympanic ring. He said in refer­ence to this very immature internal ear,

'we notice some traces of the human foetus of the modern day child.'
(25)

He didn't attach much significance to this finding, which was similar to Garrod's position on the foetal characters of the Gibraltar child. Instead, he stood by the teeth which he called, 'semblable d celui de l'enfant actuel." Trans­lation: Similar to that of today's child.

The ape-like proposition is once again brought forth in one of Fraipont's conclusions. After the above quota­tion about the accelerated skull he went on to add,

'Ce phenomene, qoique visible encore dans les races inferieures actuelles, est, chez elles, tres attenue; au contraire, il est fortement accentue' chez les grands Singes.'
(27)

Translation:

'This phenomenon, although still visible in today's inferior races, is, in their case or kind, very diminished, but in the opposite way, it is strongly pro­nounced in the kingdom of the great Apes.'
Therefore, great apes have accelerated skulls, and since he thought man was related to them, so must Neandertals. If he allowed the other facts to figure into the age equa­tion, it might mean that the teeth were delayed in eruption, and this would have been unforgiveable in the world of anthropology. He adds,

'Car un retard dans le seconde dentition chez cette espece serait en contradition flagrante avec tout ce que nous savons de son developpement et de ses caracteres anthropoidiques.'
(28)

Translation:

'Because a delay in secondary or permanent teeth (development) for this species or kind would be a flagrant contradiction with all that we know about his development and his anthropoid characters.'
Once again, this changing of facts because of assump­tions is not science. It mandates acceleration of the head even if it means adding 24 mm, and flies in the face of a thoughtful assessment of all the evidence.
LE MOUSTIER YOUTH
The fourth Neandertal child I will consider for this paper is the older youth from Le Moustier. I examined and radiographed this fossil in Berlin, Germany, in the Mu­seum fur Vor- und Fruhgeschichte. This youth has been designated as a male between the ages of 15 to 18 years. The skull and facial bones were broken and separated by a
[pg 175:]
bomb explosion in the museum during World War II. I have recently made my x-rays available to the present museum anthropologists at their request in an attempt to put the skull and face together properly. It is to their credit that they are now trying to put it together correctly.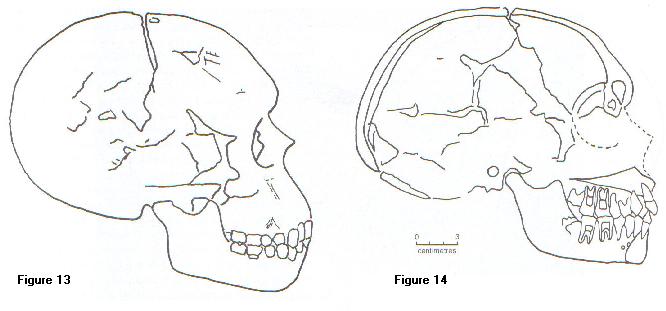 Figure 13.
Original construction of Le Moustier cranium (skull) facial and jaw bones, as taken from the article by Klaatsch and Hauser in 1909 (see references).

Figure 14.
A reconstruction of Le Moustier on paper based on my cephalometric radiographs. Each of the four pieces was traced and fitted together based on anatomical relationships: condyle in TM fossa, teeth in maximum centric occlusion (best bite according to normal cuspal patterns), normal Neandertal nasal airway (based on calculations of Pech de 1 'Aze, La Chapelle-aux-Saints, La Ferrassie 1, from the same area in France).
Figure 13 shows the original construction by Klaatsch and Hauser from their article in 1909. (29) Figure 14 is a reconstruction based on my radiographs.
Figure 15.
The official museum version of Le Moustier in the glass display case on the first floor of the Museum fur Vor-und Fruhgeschichte in the West Section of Berlin.
Figure 15 is a very ape-like reconstruction from a photograph of the offi­cial exhibit in the museum display case for the public to view.
Figure 16.
A drawing of the Le Moustier colour slide which was purchased at the counter of the museum. The lower jaw is about 30 mm forward of the TM fossa, which makes the upper jaw also 30 mm forward and very ape-like. An arrow points to the TM fossa.
Figure 16 is a drawing from the slide of Le Moustier which was purchased from the museum souvenir counter.
[pg 176:]
It is not difficult to see that there are great differences in these four versions of Le Moustier. Figure 17 is my radio­graph of the frontal bone (forehead), which shows that it would look almost like a modern one if aligned in this up­right position.
Figure 17.
Radiograph of Le Moustier frontal bone (forehead). The exterior wall of the frontal sinus is outlined with white arrows. This sinus is larger than would be expected in a 15-18 year old modern youth.
Compare the museum exhibit forehead (Figure 15 [ape-like]) and Figure 17. Check Figure 14 to see how it appears upright and how well it fits into the side of the skull (temporal and parietal bones). Look at the jaws in the drawing of the souvenir museum slide (see Figure 16). Both upper and lower jaws are very forward of the modern hu­man range of normal. Carefully examining the position of the lower jaw, it is seen that the condyle or knob at the end of the lower jaw, which fits into the fossa of the skull (arrow), is not sitting in the fossa (cup-like indentation), but is about 30 mm forward in the temple or infra-temporal area. The lower jaw would be dislocated if this were its normal position.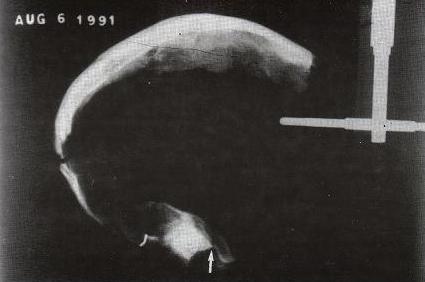 Figure 18.
Radiograph of the right side of Le Moustier cranium taken with the cephalometric method. Partial bones included are the temporal, parietal, occipital and sphenoid. Arrow points to the TM fossa where the lower jaw should articulate (fit in a hinge position). Ear ring (light circle) is in the external ear opening. Millimetre ruler is visible on right side.
Figure 18 is a radiograph of the side of the head, and an arrow points to the fossa of the temporal bone where this condyle is supposed to fit. The lower jaw in Figure 16 is so far out of the joint area that the ligaments which attach it to the back of the fossa would be stretched beyond their elastic limit. Having the two jaws in this position gives this version a decidedly ape-like appear­ance, and also makes the jaws somewhat similar to the adults.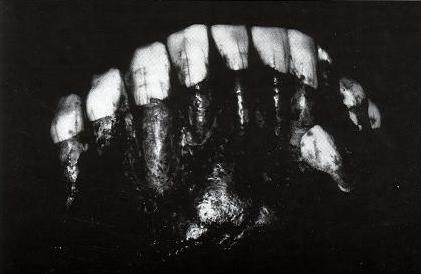 Figure 19.
The crushed chin of Le Moustier. There is no way of telling from this broken chin whether it really is as flat as this or protruded like a modern chin. My radiograph of La Ferrassie I shows a protruded chin, so I would think that Moustier had a similar one as well.
Figure 19 is a view that shows the crushed nature of the Le Moustier chin. It has been reconstructed as being flat with no curvature or elevation of the modern chin. This certainly fits the chinless assumption taken from the ape heritage assumption, but is it correct? In the study of the other three children, their chinlessness could very well be due to infantile characteristics and small jaws. By the time a Neandertal youth like Le Moustier should have acquired a chin, all that can be found is a broken one. Once again, assumptions and imagination dictate reconstruction.
CONCLUSIONS
---
I believe that the authoritarian rule of assumption which determines the reconstruction and interpretation of fossils has allowed imagination to twist the objectivity of paleoanthropology. Infantile characteristics and evidence of delayed growth patterns have been suppressed. Great license has been taken in the reconstruction of the fossil evidence. What are we to make of all this?
The obvious conclusion from this bony evidence is that Neandertal children did not develop like apes and were most likely slower than children of today. In addition, I must add that there have been reports on children of re­cent history which indicate a slower pattern of growth and development in the past. (30, 31). This whole topic is fascinat­ing; as my book [Buried Alive: The Startling truth about Neanderthal man] discusses, many of the 'ar­chaic' features of some strains of 'early man' are very likely due to delayed maturation in early post-Flood people who still had (as the Bible record indicates) significantly longer lifespans than today.
Finally, it seems to be the prevailing practice among paleoanthropologists that the ape heritage assumptions of neo-Darwinian evolution dictate the construction and in­terpretation of fossils. Then the construction or new inter­pretation is turned around and used as a fact to-prove the validity of neo-Darwinian evolution. This is circular rea­soning.
Much has been said about the presence of transitional fossils to prove that man evolved from an ape-like crea­ture. This paper describes how at least some of these have been made. There is much more to be done and I encour­age anyone who has a desire for truth to seek out these original fossils if they are allowed to see them. I would also like to request the open-minded scientists, who be­lieve neo-Darwinian evolution to be fact, to open their mu­seums to independent investigators so that science may do what science is supposed to do and be objective.
Since 1989, I have had an official request and application for permission to examine the fossils of the Na­tional Museums of Kenya. I was accepted by the Office of the President on November 6, 1990, and as I prepared to go and was raising funds for the project, I received a letter on March 5, 1991 stating that my study was no longer permitted. Succeeding letters proved futile in that the mu­seum people refused to grant permission. So much for openness!
ACKNOWLEDGMENTS
---
Figures 2 and 3 - taken with permission of the Musee de l'Homme, Paris, France.
Figures 6 and 8 - taken with permission of The Brit­ish Museum, London, England.
Figures 9, 10, 11 and 12 - taken with permission of The University of Liege, Liege, Belgium.
Figure 15, 17, 18 and 19 - taken with permission of the Museum fur Vor- und Fruhgeschichte, Berlin, Germany.
REFERENCES
---
1. Weidenreich, F.,1949. Trends of Human Evolution, Viking Fund Me­morial Volume, Washburn and Wolffson, New York, p. 9.
2. Weiss, M. L. and Mann, A. E., 1985. Human Biology and Behavior, An Anthropological Perspective, 4th Edition, Little Brown and Com­pany, p. 313.
3. Patte, E., 1958. L'Enfant de Pech de I'Aze, Neanderthal Centenary, Wenner-Gren Foundation, Utrecht, Netherlands, pp. 27()-276.
4. Ivanhoe, F., 1970. Was Virchow right about Neanderthal? Nature, 227:577-579.
(more references will be added)